The Order Management tipping point
What's in this whitepaper?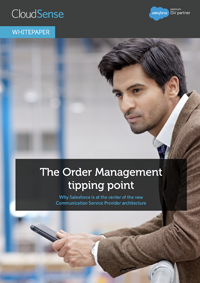 As technology continues to evolve exponentially, your customers' behavior is naturally changing alongside it. The advancements in technology have led to increased customer expectations and, as a result, Communications Service Providers (CSPs) need to provide a seamless customer experience.
However, the majority of CSPs don't have the architecture to deliver this kind of service. This joint paper from CloudSense and Comptel offers an expert viewpoint on the new CSP architecture, and why Salesforce is at the heart of it.
Download this free whitepaper for expert insights into the evolution of the Communications Service Provider architecture, including:
How technology has changed customers and their expectations

Why Order Management is at the core of your customer interactions

What's the Order Management tipping point?

How Salesforce, CloudSense and Comptel provide an agile and open platform to CSPs.