Top 10 Order Management problems
What's in this guide?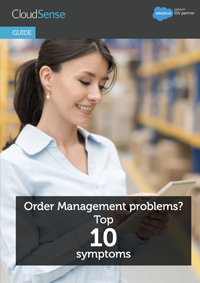 Whether you're selling a simple product set online – or a complex range of products and services in multiple geographies – a properly functioning Order Management system is vital to fulfilling every customer's expectations.
However, Order Management systems are by no means one-size-fits-all, they need to be adapted based on your business' needs. If your Order Management system lacks certain functionality, or its processes are siloed, your business is probably suffering from a number of common problems:
Are you stuck using manual processes and continually finding errors in orders?

Do you have difficulty making changes to customer orders/information?

Do your siloed sales channels give you limited visibility of your customer, leading to a poor customer experience?

Does your business suffer from disjointed customer journeys, slow cash flow or are you falling behind on customer demand?
If you recognise any of the problems above, download this guide for more information on how the right Order Management software can help you overcome these issues.