Spotlight on Chris Parsons
February 16, 2017
Welcome to 'Spotlight on', a quick-fire round of Q&A where we get to meet the people who make CloudSense tick.
It's a fast, (relatively) fun way to learn a little bit more about CloudSense's people – from what makes them want to come to work every day – to the meal they'd pick before they met their maker on death row.
Today we've got the pleasure of getting to know the man who won 'CloudSense's clearest thinker' two years in a row, CloudSense's Sales Development Manager, Chris Parsons.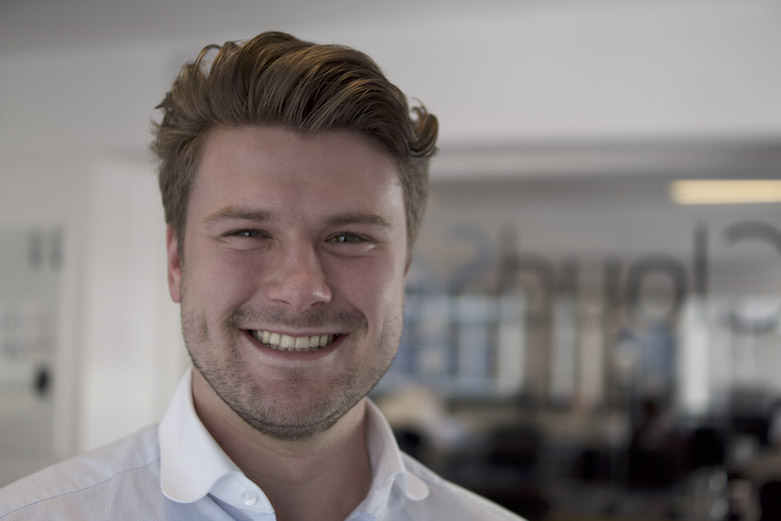 Name, Position & CloudSense Office:
Chris Parsons, Sales Development Manager, London
What do you do at CloudSense on a day to day basis?
My team essentially look after all the opportunity creation. Basically, turning leads the marketing team give us into opportunities for the sales team.
How long have you worked here?
2 years
When was your best day at CloudSense and why?
Tomorrow!…Every day gets better and better.
But, genuinely, they're all pretty good. My favorite was probably the day I went to Paris with two of our founders and my RVP to attend a meeting I had set up with a C-level executive from a huge multi-national business.
Describe a 'CloudSense person' in 3 words…
Clear-thinker (obviously)
Challenger
Knowledgeable
What makes you want to come to work every day?
Chris Evans (CloudSense's Regional Vice President EMEA).
What's your screensaver?
The standard mountain one.
If you could switch jobs with anyone else at CloudSense, whose job would you have?
Richard Britton (CloudSense CEO).
Where do you see CloudSense in 5 years' time?
Good question – twice as many offices globally and our own tower. Our own tower would be nice.
Where's your hometown?
Guildford, greatest town on Earth.
Where's your favourite place in the world?
Nice – beautiful promenade, great food and the home of TM Forum.
What's your favourite book and favourite film?
The adventures of Sherlock Holmes and Gladiator.
What's your guilty pleasure?
Hmm…I don't have any guilty pleasures, I'm proud of everything I do!
I guess if I had to pick one it would be Little Mix. (Editor's note: Little Mix are a British girl group, the quality of their music is open to debate.)
If you could have a superpower, what would it be?
Invisibility…No, wait.
I've seen enough airports and lounges in my first two years at CloudSense to last a a lifetime, so it'd have to be flying.
It may also go down well with the ladies – see Superman and Aladdin's magic carpet.
Three apps you couldn't live without on your phone?
Uber, Spotify and Instagram – how else will both my followers know what I'm up to.
What would your death row meal be?
Tough one, I like all food. An all you can eat, never-ending buffet.
I can't have that? Ok, Tapas. Tapas is nice isn't it? I'd get the other inmates in and have a little sharing meal.
Who would you invite to your dream dinner party?
John Cleese – comedy genius
Jonny Wilkinson – the most beautiful man alive
Emily Ratajkowski – check out her Instagram
and Chris Evans.
Who would play you in the film of your life?
If only Heath Ledger hadn't died, that could have been his big role. Leo's too old now…James Corden. People say I look like him.
Actually, me. I used to do drama, I'll play myself.
Would you rather fight a horse sized duck or 100 duck sized horses?
100 duck sized horses – the bills really scare me.